Alua is an exclusive chat service that provides a safe and fun platform where creators and fans can communicate on their own terms. This app features not only a great alternative to a wide range of social networks and dating apps but also to platforms of a similar kind, like OnlyFans or Fansly.
In this article, we touch upon Alua and its main features and discuss why you should use it. So buckle up and enjoy the ride!

How does it work

Alua, like other sites of its kind, is subscription-based. Creators get a platform where they can post different types of content, like photos or videos.
If fans decide they're willing to pay the determined fee, they can follow their favorite creator all the time and gain exclusive access to all kinds of content on their private feed. They'll also receive constant updates about new content that the creator is preparing to launch.
But there's more to what makes Alua unique among existing platforms. For one, the app's chat service offers a one-of-a-kind chance for creators to get in touch with their fans and make extra money from their talks.
Aside from subscriptions, which offer a constant influx of passive income, creators earn extra income by responding to their fans. Creators earn more money when they talk more to their fans. They are paid per character, so the longer your responses are and the longer the exchange lasts, the more money you, as a creator, will make.

Alua's features

The first thing you'll see as you sign in on Alua is the "Discover screen." The default mode of the screen is set to "Featured," but next to it, you'll see the "Private feed" and "Messages" buttons. All three features are crucial for your work as a creator, and you should get familiar with all of them to make the most out of Alua.

The Featured tab
The "Featured tab" is probably the most important for creators (especially new ones) because it's the place where users can browse creators. Being at the top of this default page is every new creator's dream because it boosts their visibility and helps them attract new fans.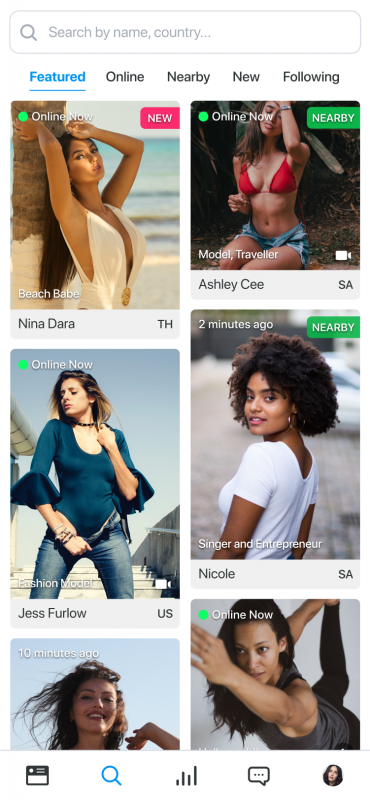 The more you promote your content on social media, the more Alua will push you to the top of the Featured tab. That's also known as the principle of "promote for promotion" (like "share for share"). Plainly speaking, the more you talk about Alua, the more Alua will talk about you. To be eligible for a boost, you will have actively use the app, or just be online. There are also other parameters that will help boost your profile, like earnings and fans count.

Other ways to get noticed
Being at the top of the Featured page is not the only way to get noticed by new fans. There are four other smaller sections where you can get featured – "Online," "Nearby," "New," and "Popular" – and all of them can make you visible to potential fans in different ways.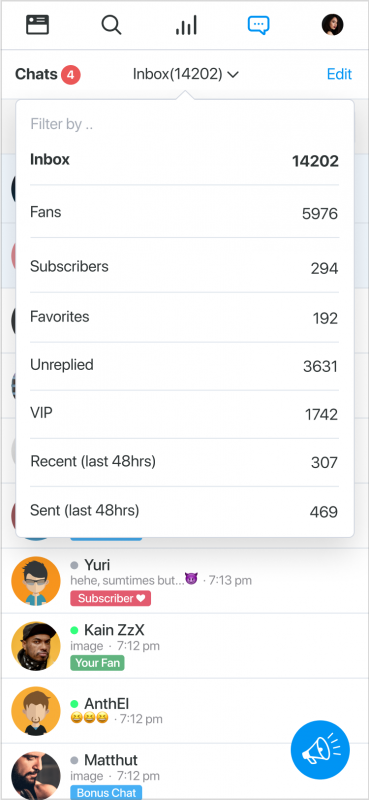 Most of the time, fans don't stick solely to the Featured tab – they also look for creators in the "New" and "Popular" tabs. The "New" tab features creators that have joined Alua recently, and the "Popular" tab shows the more established creators who've already made a name for themselves on the platform. These two tabs have more to do with the creators themselves, than with the content they're producing.
Creating new content all the time or having a lot of followers will do wonders for you. One thing is for sure: Alua rewards creators who work hard!
But never underestimate the power of pure chance. The "Online" tab allows you to be visible as currently online for potential fans who need and want to chat with you at that particular moment. This tab provides a great incentive for creators to stay logged in.
Other times, being at the right place at the right time is all you need. That's the purpose of the "Nearby" tab, which tells your current location to your fans. As a creator, you can set your location as you want. For example, if you're a creator from Thailand, you can set your location to the US so you can become more visible for US fans.
You just have to remember to stay logged in and continue to make creative content: in that way, you can be visible in many different tabs simultaneously.

Private Feed

To the left of the Featured tab, you'll find the "Private feed." This tab will be your primary source of income since Alua is a subscription-based platform like OnlyFans and Fansly. Here, the topmost fans will have limited or unlimited access to your highest-quality content.
The lowest price for subscriptions on Alua is $4.99 per month, while the highest is $39.99. The platform is very creator-friendly – after all, around 80% of the subscription money goes to creators. The income will depend on both the quality and frequency of the content, so it's up to you as a creator to work hard and let your creativity run wild.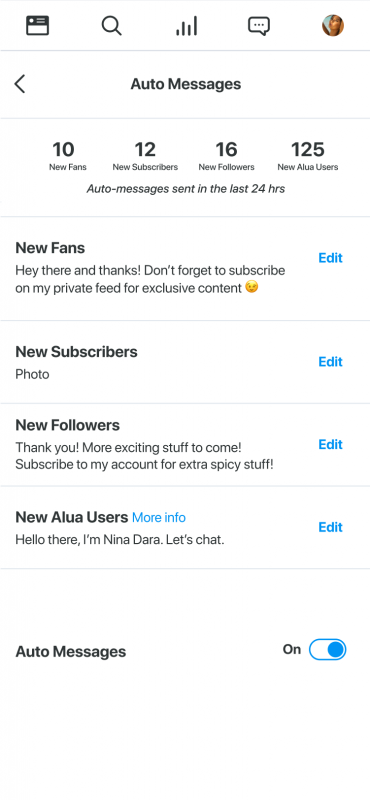 Messages

On the other side of the Featured tab is the "Message" tab. It's probably Alua's most interesting feature and one that makes this platform stand out from its competitors. It enables you to manage your account in different ways, build your Alua persona, interact with your fans, and make some extra profit. There are some creators who only use Alua's messaging features. For them, interaction with fans is their main source of income. So, if you want to earn through texting alone, you definitely can!
Next, we'll tell you a bit more about the different ways of managing your Alua account and communicating with your fans.

Initiate communication

One of the first things you should do as a creator is to activate the "Auto Greetings" option. This will allow you to send an automatic message to every user who interacts with your profile without crafting each message individually.
Think of something catchy and easy-going but also personal so that the fans who come to your profile will feel immediate attention. This feature allows you to connect with users and offers a great way to boost and increase your fanbase. It also takes away the awkwardness some new users might feel in their first interaction with you, particularly the shy ones.

Paid chat

This is arguably Alua's most unique feature.
How does it work? You get paid for every reply you send to your fans. It depends on the number of characters – the longer the chat lasts, the more money you get. A creator can earn a lot of money using this feature, especially if they're popular and have a huge fan base.
Alua stimulates creators to interact with their fans individually via personal chat. As a creator, you have two options: either to initiate the chat through the Auto Greetings option or respond to your fans' messages in your inbox.
But, aside from the constant income – which is great in itself – chatting with your fans enafgtbles you to find out what they need and want to see on your profile. This allows you to grow as a creator and evolve your brand on Alua even more.

Paid chat content

You can also share exclusive private content, like personal photos or videos you don't want to share with anyone else. You get to set the prices for your content and for how long it can be seen, if you want to.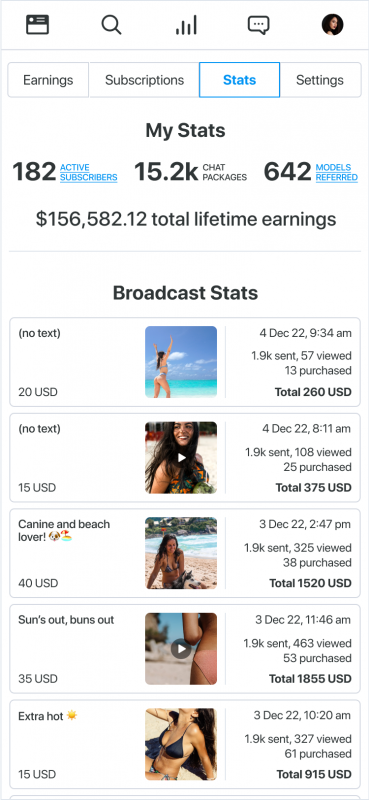 Broadcast

Once your fan base rises significantly, one-on-one communication gets much harder. But don't worry: you have the "Broadcast" option that automatically sends new content to your subscribers. You can use this feature to share announcements with all your subscribers, or with a specific group of them.
Again, you have complete control over the process with the help of a stat page. This automatically presents all the data you need, like money earned, number of viewers, new subscriptions, etc.

Conclusion

Alua is a new platform that offers a lot of innovative and personalized features. One of the best things about it is the sense of freedom and control it gives to creators to seek out new avenues of expression. So if you're eager to scratch that creative itch, familiarize yourself with Alua's features and make a profile as soon as possible!