Alua is a platform that really strives to bring the best out of creators and connect them with fans who'll adore what they do. It also helps creators earn money in the process by offering several different money-making strategies.
In this article, we'll briefly summarize the four strategies you should use to make money on Alua. Whether you want to earn through subscriptions and mass messaging, get paid to chat with fans and subscribers, use commissions from referrals, or combine all of the above, we've got you covered.
Let's take a look now at all the ways you can use Alua to monetize your content and your time on the platform!
1. Earn through broadcasts and subscriptions
Broadcasts and subscriptions are very popular strategies with creators who have a large following.
These creators get a ton of DMs every day, so they don't have the time or energy to answer them one by one. Each new DM represents potential income, so it's only natural that creators want to answer all of them.
This is where the Broadcast feature comes in. Broadcasting allows you to automatically send messages in bulk to all your fans/subscribers. You can use this feature to send paid content, ask for tips, or inform your fans of any novelties you have in mind for your profile.
You can broadcast your message to all of your fans simultaneously or only to a select and exclusive few. It's up to you. It'll help you keep your fans more engaged and prepare them to start paying for your hard work.
With this feature, you also get to see a stat page where you can find data on how much money you've earned in general and via broadcasting specifically, the number of new subscriptions, the number of viewers, etc.
Another thing you can do to earn money on Alua is to ask your large fanbase to try a monthly subscription. Tell them this is how they can access your private feed with exclusive content and develop a closer, more intimate relationship with you. That way, you get to keep your fans happy and engaged, and they also get to support your efforts.
2. Use the paid chat feature and make money by chatting with fans
For this strategy, you'll have to devote more attention to each fan/subscriber in your DMs. However, this can definitely pay off in the end if you have the patience and time for it.
Alua has a special feature that allows creators to earn money by chatting with their fans and subscribers. The principle is very simple: the more you type, the more money you get. Creators are paid per character, so the longer their replies and conversations are, the more they'll get.
Once you get VIP fans who are loyal and remain long-term correspondents, you'll really make some great profits.
The pay-per-character feature is only one component of this strategy. Another thing you can do is upsell photos and videos (PPVs) in the chat and increase your profits.
Now, for people who have tons of DMs, this can be a little difficult. You either need to have a less demanding inbox or make some time to select a couple of VIP chatters who can make that extra effort worthwhile.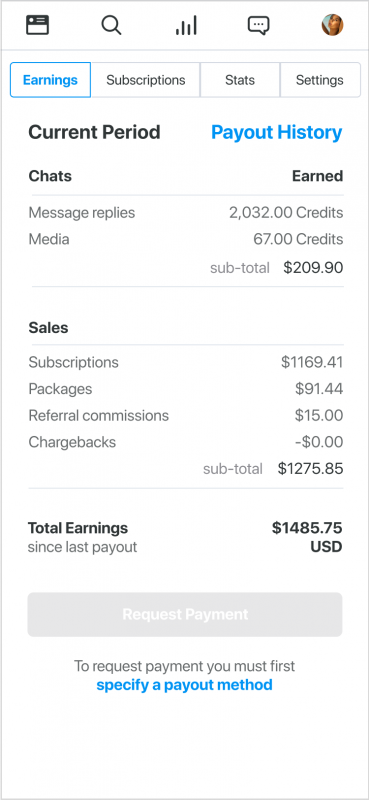 3. Recruiting
Another strategy you can use to make money on Alua is to take advantage of the referral program and help recruit more creators by sending them a referral link.
Alua offers lifetime referral commissions of 5%. For every creator you get to sign up on Alua through your link, you get a lifetime commission of 5%. So, imagine how much you can earn as a consistent passive income if you regularly refer people to sign up on Alua.
Of course, this couldn't work as your main source of income because it's just not that kind of strategy. Still, it's an easy way to make extra money in addition to your main money-making plan.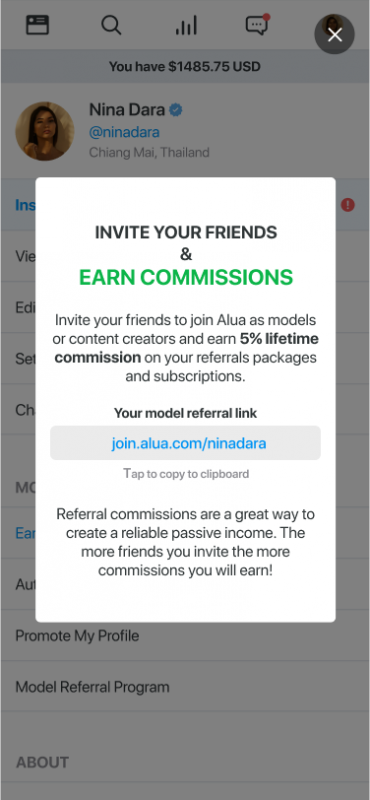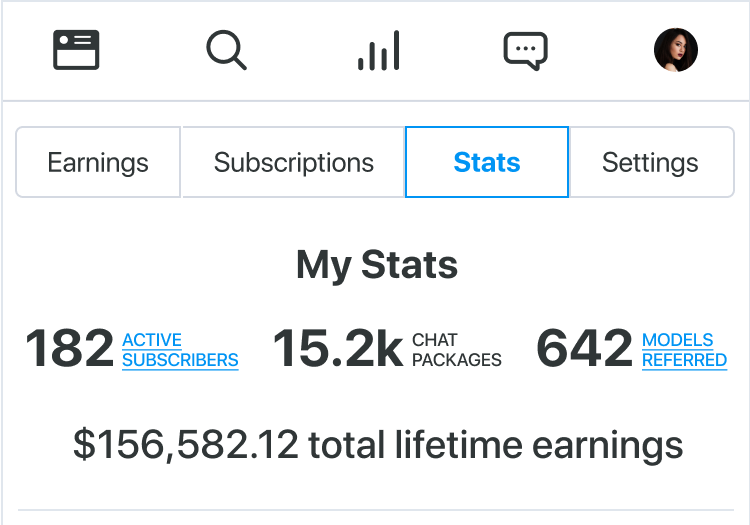 4. The combo earning strategy
The final Alua earning strategy on this list combines all three strategies we previously described.
Once your fan base has become large enough, you can start offering subscriptions and post more exclusive content on your private feed. That way, you can lure in fans who want to see more of you into becoming paid subscribers.
Also, once DMs get too hectic and overwhelming, you can start broadcasting any important things related to your profile and distribute paid content to earn extra money.
Another thing you can do in combination with all this is to use the paid chat feature and earn money by chatting with fans. You can also use this option to sell custom premium content in your chats for special fans.
Finally, you can start chasing referrals, i.e., recruit other creators to sign up on Alua with your link and receive passive income from their profits.
Read more: Tips for Alua Creators
Conclusion
As you can see, there are plenty of possibilities on Alua to put your full creative potential to good use and make a solid amount of money from it.
It's up to you whether you'll choose all the strategies we've described or just one or two of them. Still, we hope that at least some of them have inspired you to start your journey on Alua. So don't hesitate to see what this platform can do for you, and make sure to sign up as a creator.
We are really looking forward to seeing you use these strategies and make your own mark on Alua!