Alua Review 2023
If you are considering joining Alua as a creator or a fan, it is important to do your research and learn as much as you can about the platform. In this article, we will provide you with a comprehensive Alua review. Read this guide to start your Alua journey!

What is Alua?
Alua is a popular online platform that empowers creators to connect with fans, create exclusive fan clubs, and monetize their content. It is recognized as a powerful messaging platform that facilitates seamless connections between creators, models, talent scouts, internet personalities, and their fans.
The site offers unique features that set it apart from other social media platforms, allowing users to connect, share, and create in ways not possible elsewhere. With a diverse range of high-profile creators, including YouTubers, Fitness Coaches, Models, Talent Scouts, Social Media Influencers, and Content Creators, among others, this incredible website caters to a wide range of interests, intriguing individuality considered.
If you're interested in learning more, we invite you to join us as we talk about this exciting site in our Alua review.
How does Alua work?
The site offers creators four unique ways to earn money:
Paid chat feature
Subscriptions
Pay-per-view content
Model referral program
The paid chat feature is highly popular among creators, as it enables them to earn cash through private conversations with their fans. These one-on-one interactions not only provide a source of income but also contribute to improved mental and physical health. Additionally, if you're seeking long term friendship, this site offers opportunities to potentially find meaningful connections.
It stands out from other platforms due to its remarkable flexibility, with each particular service functioning independently. You can earn by exclusively utilizing Alua's paid chat feature. No serious relationship is required, making it accessible for various individuals. Moreover, creators have the opportunity to generate extra money by offering pay-per-view content within the chat feature.
You can earn rewards effortlessly while spreading the word about your Alua account to your friends. By referring Alua to your friends, you not only help them discover a great platform, but you also unlock a potential stream of income without having to invest a significant amount of time and effort. The more creators you refer, the more referral commissions you can get.
However, if you prefer creating exclusive content, Alua's subscription model still allows you to do so. Fans and users can subscribe to their favorite creators and access their exclusive content. Not to mention, talent scouts can find you this way. With Alua's diverse range of earning options, creators have the flexibility to choose the method that works best for them.
What features do social media celebrities, influencers and models like best about Alua?
If you're already active on other platforms, Alua is still your best mate. You don't need to create additional exclusive content for Alua. Instead, you can take advantage of its paid chat feature to monetize your existing fan base.
Its earning features are designed to be user-friendly and flexible. It provides creators with complete control over how they monetize their content. Whether you prefer to earn through subscriptions, pay-per-view content, paid chat, or the model referral program, it gives you the freedom to choose the earning method that aligns with your goals and passions.
As a creator, you have the power to set your own prices, manage your own schedule, and engage with your fans in a way that feels authentic and fulfilling. There's no sexual connections needed from you to be earning. There are no restrictions or pressures on creating exclusive content at all. You can use Alua mainly for its paid chat feature, and that's okay. If you can only offer a subscription, then that's okay too. Alua makes it easy for anyone to start monetizing on the platform.
Why do some of the world's top models and influencers choose Alua?
There are several reasons why some of the world's top models and influencers choose to use Alua:
High earning potential: It offers a platform for creators to monetize their content or, through paid chats alone earn a steady income. With features like paid chats, pay per view content, subscription and referrals, it provides multiple streams of revenue for creators.
Control over their content: It allows creators to have full control over how they can earn or the way they interact with their fans. Creators can choose how they want to earn, set their own prices for exclusive content and private chats, and engage with fans on their own terms.
Privacy and security: It prioritizes the privacy and security of its creators, ensuring that personal information and content are kept safe and secure. It also has strict policies against harassment and abusive behavior.
Global reach: It has a diverse and global user base, allowing creators to connect with fans from all over the world. It provides creators with the opportunity to reach a wider audience.
Internal traffic: Unlike other platforms, it provides internal traffic for creators. This gives creators more visibility and helps them to maximize their earning potential as there are already users ready and waiting to chat. Unlike other platforms Alua already has users ready and waiting to chat so creators automatically have more earning potential
Support and resources: It offers a range of resources and support for creators, including live chat support, a premium model support team, and a variety of tools and features to help creators promote and monetize.
How do I earn money on Alua?
To earn, creators can take advantage of four unique earning options: paid chat, subscriptions, pay-per-view content, and model referral program. The paid chat feature allows creators to generate income by engaging in one-on-one private conversations with their fans. Subscriptions allow creators to offer exclusive content to their subscribers for a recurring fee. Pay-per-view content allows creators to charge a fee for private and exclusive content.
Creators have the freedom to choose which option to use, whether it's only one or all four. Alua's user-friendly earning features allow creators to have complete control over how they want to monetize their content and what they are most passionate about.
Let's take a closer look at each of Alua's earning options.
Paid chat
Alua's paid chat feature is a great way for creators to earn money by engaging in private conversations with their fans. This feature allows creators to generate income for every 50 character reply that they send. Fans can also send messages to creators. But they will have to pay the price set by the creator to unlock the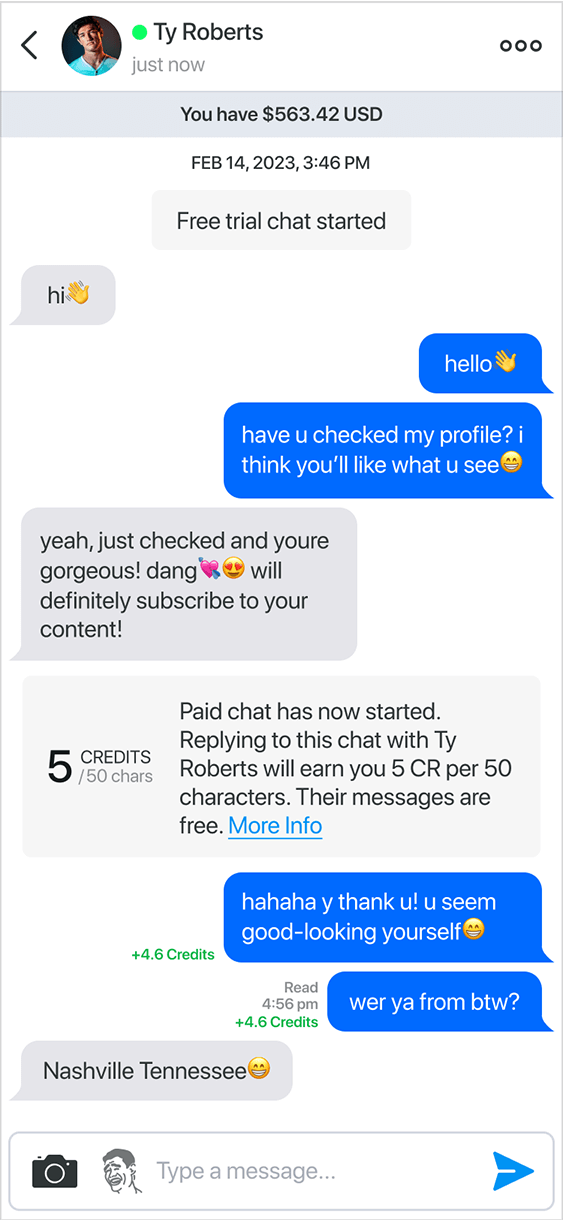 Creators have the ability to set and change the chat rate at any time. This gives them complete control over their earnings. What's more, Alua's mobile app makes it easy for creators to stay connected with their fans on the go.
Paid chat is an excellent option for creators who want to monetize their fanbase without having to create new exclusive content. It's also a great way to build a deeper connection with your fans, as you can engage in more personal conversations. Creators have the freedom to talk about anything they want with their fans. You can talk about your favorite movies, music and anything under the sun.
Alua's paid chat feature is user-friendly and easy to set up. Creators can set up the price per message. Creators can also offer an exclusive free chat option for their followers as part of their promotional strategy. Fans can then purchase credits to use in paid chat conversations, and creators can withdraw their earnings at any time.
Auto messages
Auto messages are a great way for creators to connect with their fans and make money while they are away. Creators can set up custom messages that are automatically sent to fans who have subscribed to their content or initiated a chat. These messages can include personalized greetings, promotions, or special offers.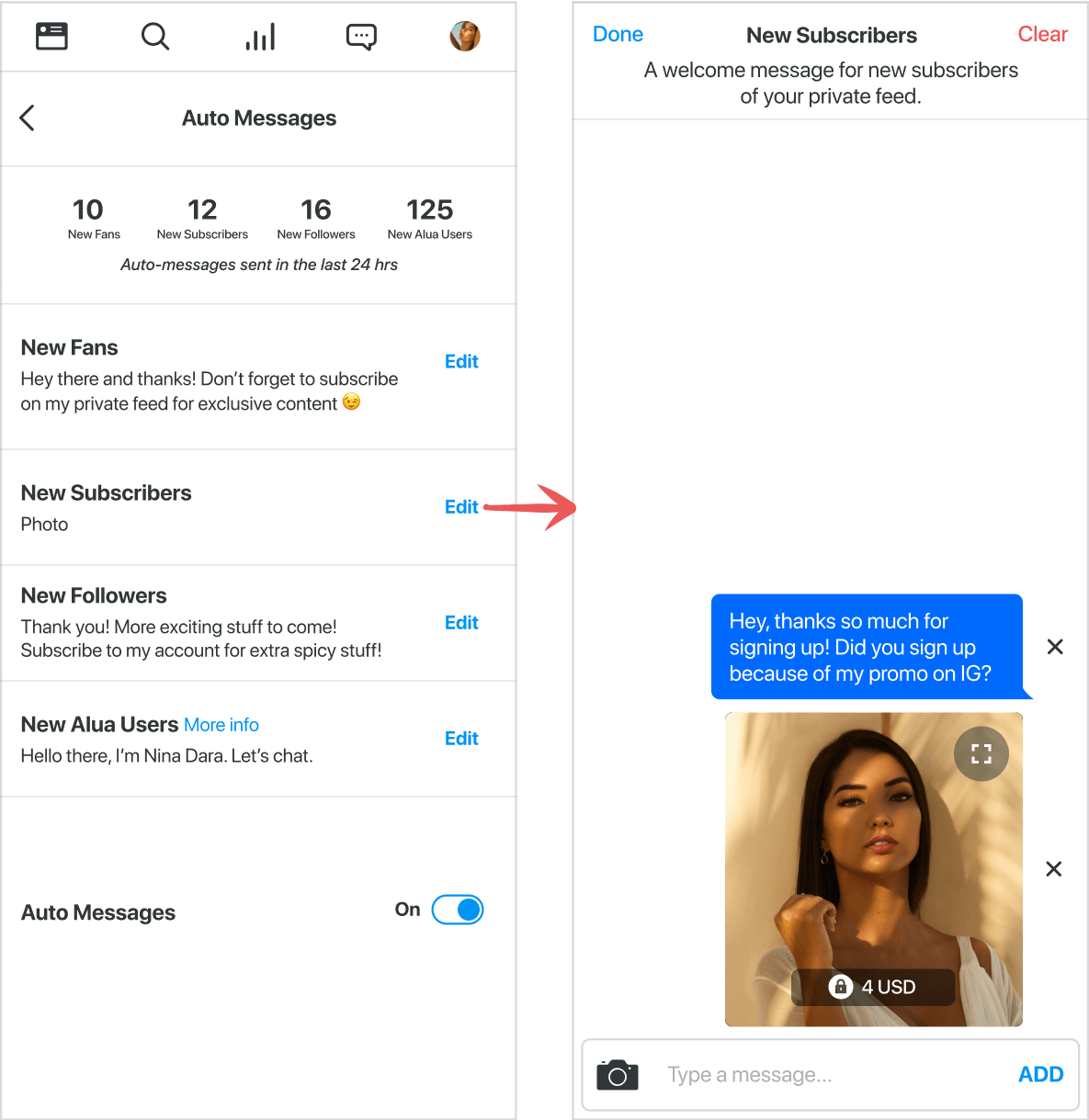 Broadcast messages
This is a powerful feature that allows creators to send a single message to all of their fans and subscribers at once. This can be particularly useful for creators who want be well organized in promoting new content. Creators can use this to make announcements, or simply engage with their subscribers.
Using Alua's broadcast message feature, creators can send a message to their entire subscriber base with just a few clicks. This can save time and effort compared to sending individual messages to each subscriber.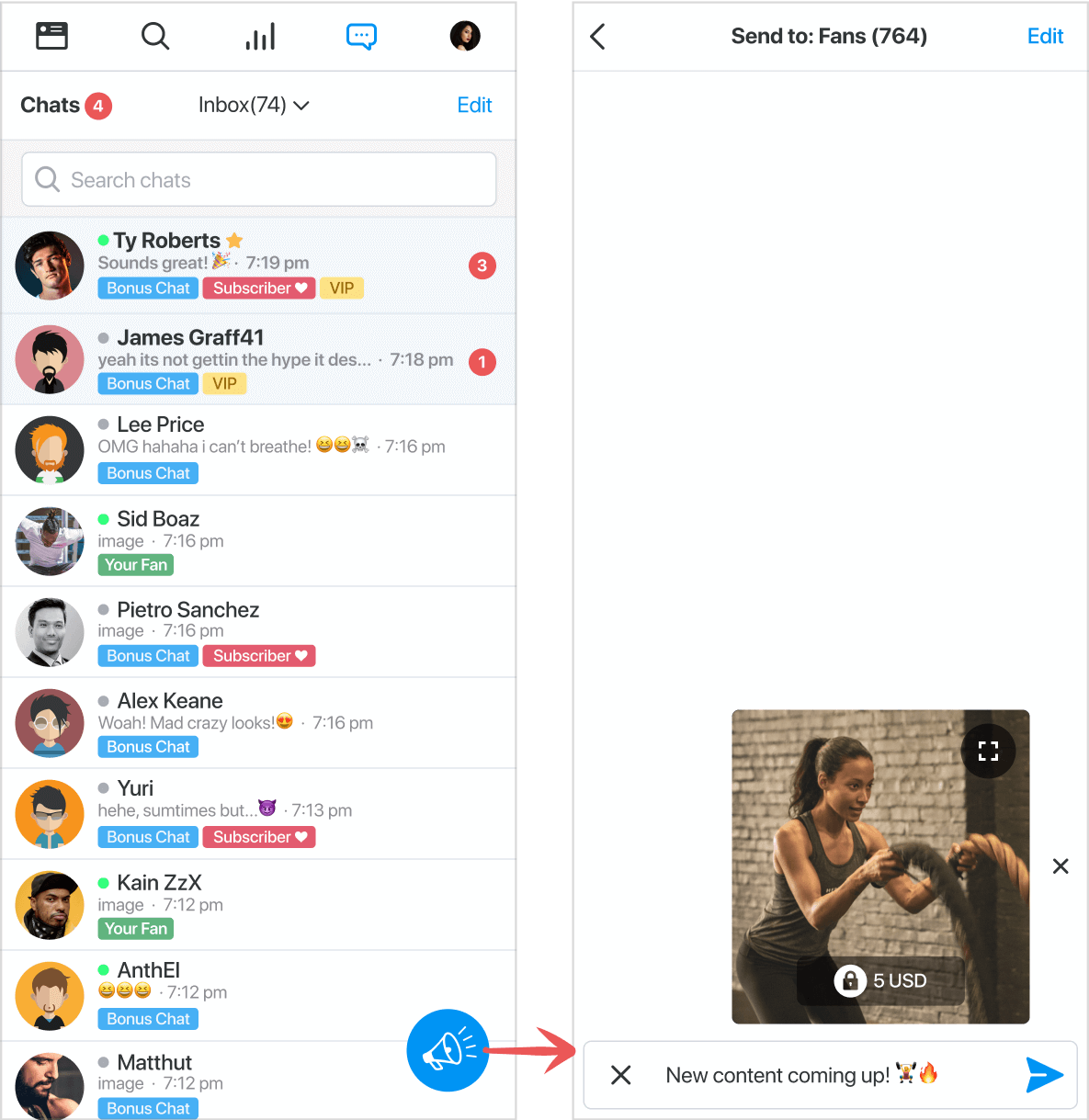 Subscription
Subscriptions on Alua are optional, with creators having the ability to offer this to their followers or not. This feature allows fans access to their exclusive content. To entice fans to subscribe, creators should offer exclusive content that they can't find anywhere else. They can offer behind-the-scenes access to their creative process, exclusive photos and videos, early access to new content, and more.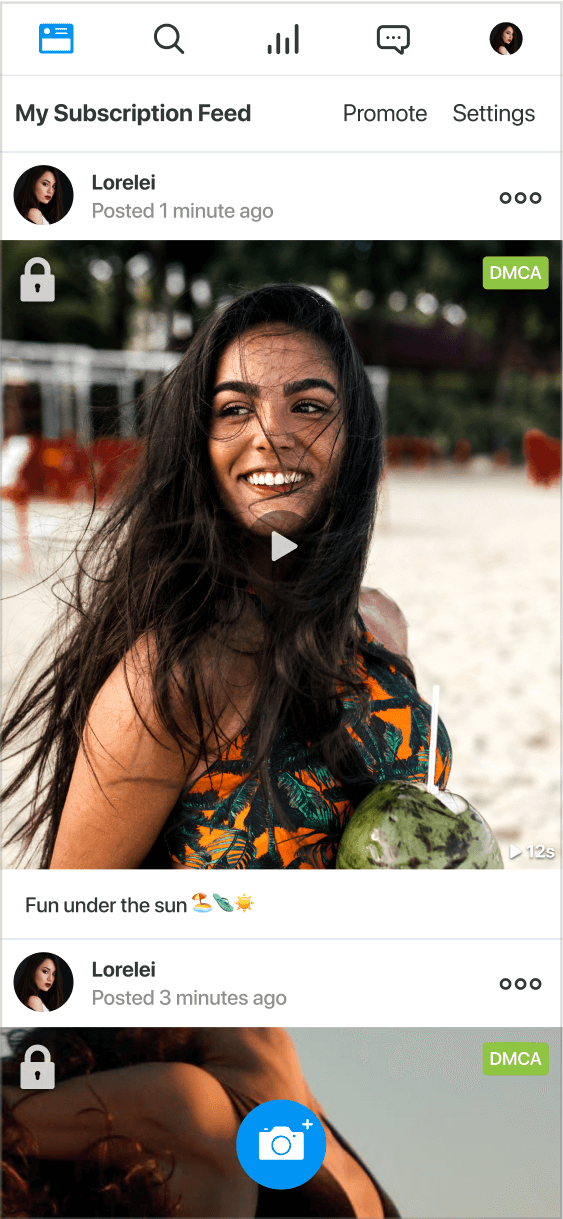 Alua's subscription offers a recurring revenue stream for creators, providing them with a stable income source. Additionally, subscribers are often more engaged and loyal to creators they subscribe to. This leads to a stronger fan base and higher earnings in the long run.
Alua provides creators with complete control over their subscriptions, allowing them to set the price, manage subscribers, and control the content they offer. With Alua's easy-to-use platform, creators can start earning money from their exclusive content in no time.
Exclusive Content
Alua's pay-per-view (PPV) content is a great feature that allows creators, personal trainers and influencers to monetize their exclusive content. With this feature, authors can charge a fee for private content, offering personalized photos and videos to their subscribers as a PPV content.
One of the best things about the pay-per-view feature on Alua is that creators have the freedom to charge whatever they want for their content. They can also choose to focus on Alua's paid chat feature or utilize subscriptions more. The flexibility of this feature makes it easy for creators to find a pricing model that works best for them.
Creators can enhance their earning potential by leveraging the sale of PPV content to reach and monetize users who have not yet subscribed.
PPV content can be offered behind a paywall, or it can be offered to fans through private one-on-one conversations. All the creator has to do is send their PPV content and lock it with the amount they want to set for them. This makes it easy to provide high-quality content while also providing good value for your subscribers' money.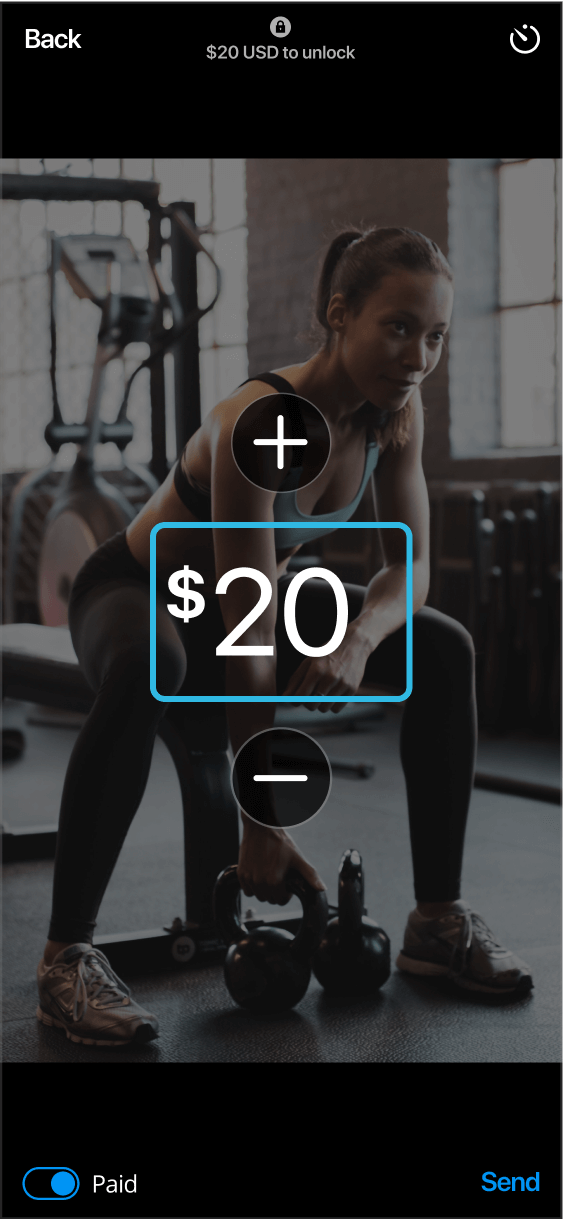 Creators on Alua can also be confident that their content won't end up in the wrong hands thanks to Alua's self-destructing timer. Creators can use the self-destructing timer for photos and videos inside the chat, setting it for up to 48 hours. After that, the content will be automatically deleted. This feature offers users greater value for their money, while creators have a more secure way to share their content.
Model Referral Program
The Model Referral Program on Alua is an excellent opportunity for creators to earn extra income by referring new models to join the platform. Successful referrals earn a 5% commission for a lifetime. As long as that creator is earning then so will you, this is without any cost to either party. Alua offers lifetime commissions with no earning cap on referrals, whereas some other platforms only offer it for up to $50,000 per referral and only for a maximum of a year.
It's worth noting that the more creators you refer to Alua, the greater your earning potential becomes. And as long as you continue to use Alua's service, you can get referral commissions. It's another way to generate additional income through successful referrals.
Alua's best features
Mobile application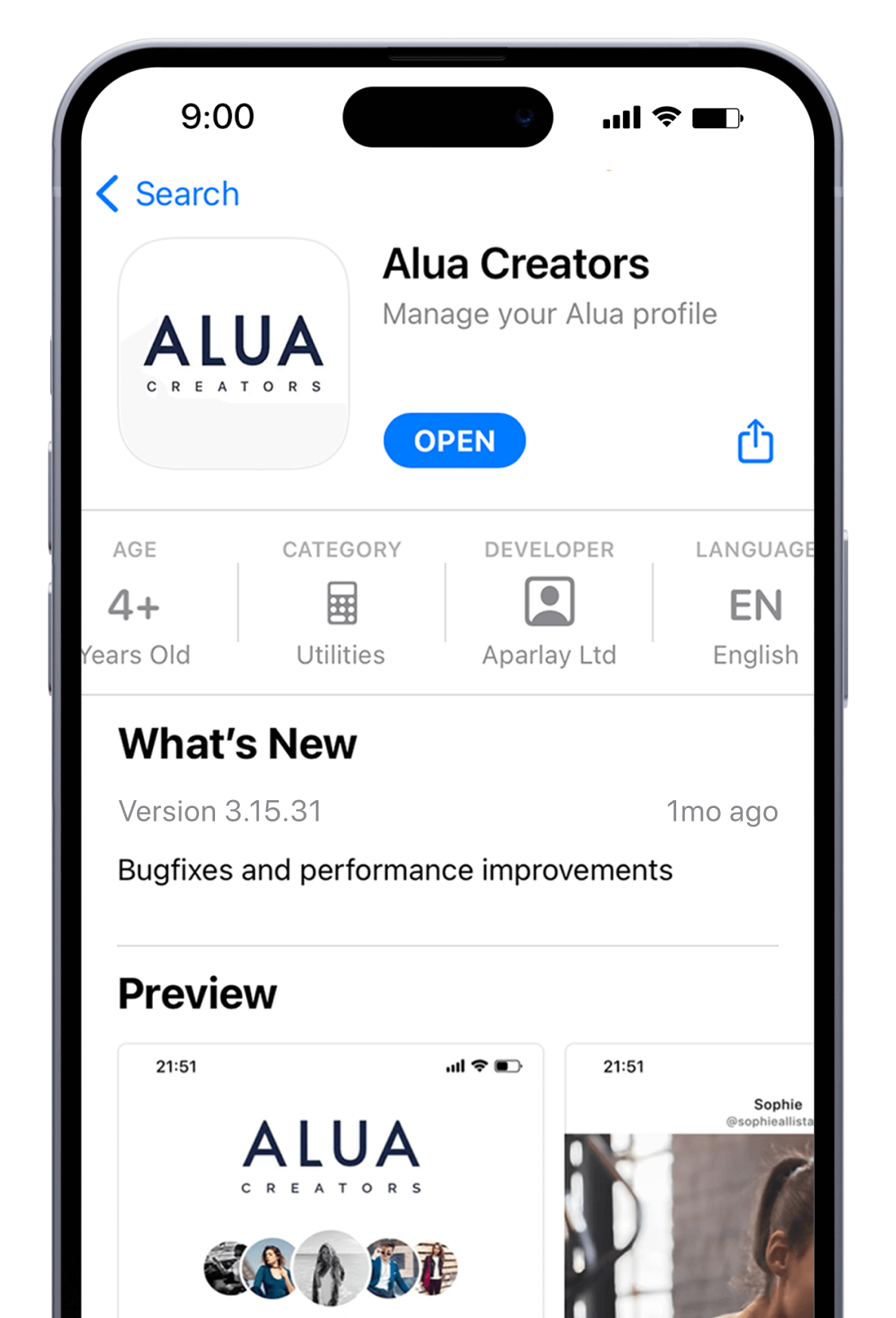 Alua's mobile version is a crucial tool for creators looking to create and monetize content on the go. Available for both iOS and Android devices, it can be downloaded from the App Store or Google Play, making it easy for creators to access all of Alua's features from their mobile devices.
One of the key benefits of its mobile app is that it provides a seamless and user-friendly experience, allowing creators to quickly and easily create and upload content, manage their personal profile, and engage with their followers.
For fans, Alua is available on Android devices through the Google Play store, while iOS users can access the platform through the progressive web app (PWA). PWAs provide users with an app-like experience, allowing them to access Alua's features directly from their home screen, without the need to download or install anything. All you need to do is head over to your profile and click "Install the Alua app".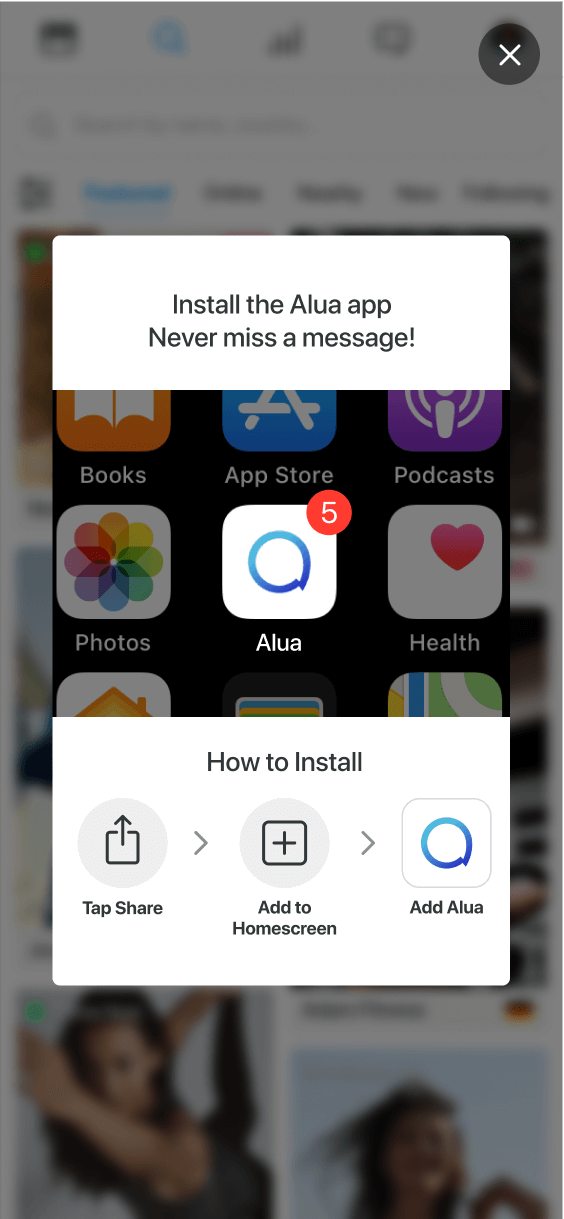 Discover Screen
Alua's Discover screen benefits both users and creators. Users can discover creators to follow, while creators gain visibility and grow their fanbase. The Discover screen is easily accessible from the home page and showcases a curated selection of creators.
Being featured on the Discover screen increases visibility and attracts new fans for creators. Joining the site automatically grants creators free placement on the Discover screen, giving them an initial exposure boost. One great opportunity to make more money as a creator. Additionally, creators who actively promote receive extra rewards and increased visibility on the platform.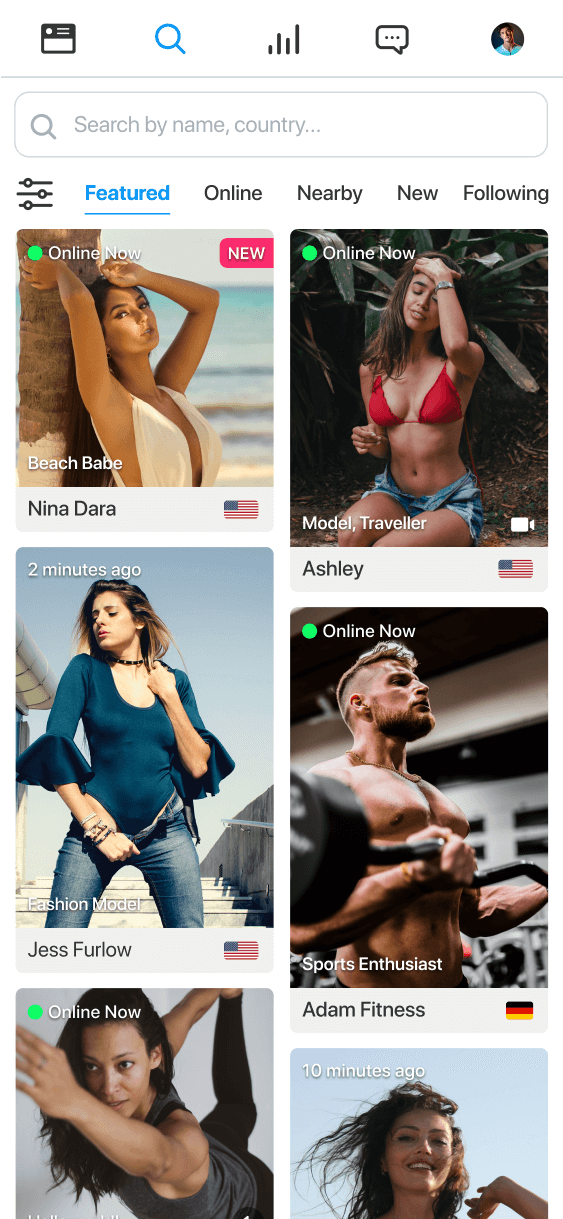 Web version
Alua offers a fully functional web version of their platform, allowing creators to access features from their desktop or laptop computers. It provides convenient management of accounts and content without relying solely on mobile devices. You can access the web version via your phone's internet browser if you want. The web version offers full functionality, including the Discover Screen and real-time notifications. With a larger viewing screen, creators can easily view and manage their content.
Featured tab
The Featured tab showcases top creators on Alua, allowing fans to discover new talent. The Online tab is useful for fans seeking prompt responses from creators. Upon joining, creators are automatically included in the Featured tab, increasing their visibility and internal traffic. This gives new creators a boost and facilitates their earning journey.
Bonus chat
With Alua's internal traffic, creators can earn extra revenue through bonus chats from other users. These chats can come from both subscribers and non-subscribers who discover the creator through the Discover screen. As a new user, you receive a boost in exposure on the Discover screen, increasing the chances of receiving bonus chats from existing users.
Instant payouts
Alua's instant payout feature provides efficient financial management for creators. They can receive earnings as soon as transactions are approved, choosing from multiple payout options like PayPal, bank transfers, or cryptocurrency. Creators can cash out every two days with a low minimum threshold of $20, offering greater flexibility compared to other platforms.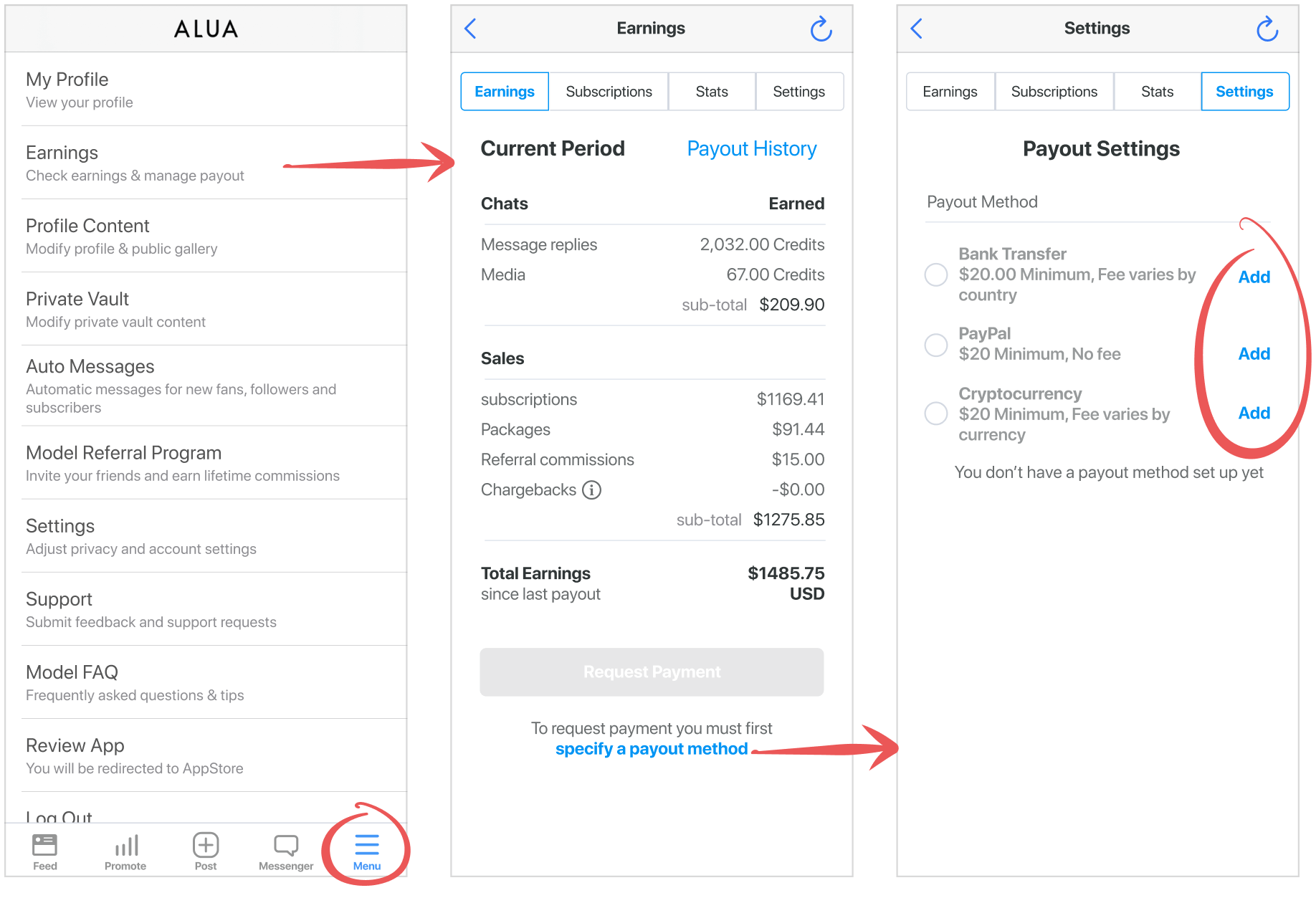 Live chat support
Alua provides exceptional 24/7 live chat customer support. Alua takes pride in providing users with dependable assistance. The Alua support team are highly knowledgeable and dedicated to swiftly resolving any issues that may arise. Contacting the support team is as easy as a single click, ensuring a hassle-free experience. The user-friendly chat interface offers clear instructions and helpful prompts, making the assistance process seamless and user-oriented. Don't hesitate to reach out for support!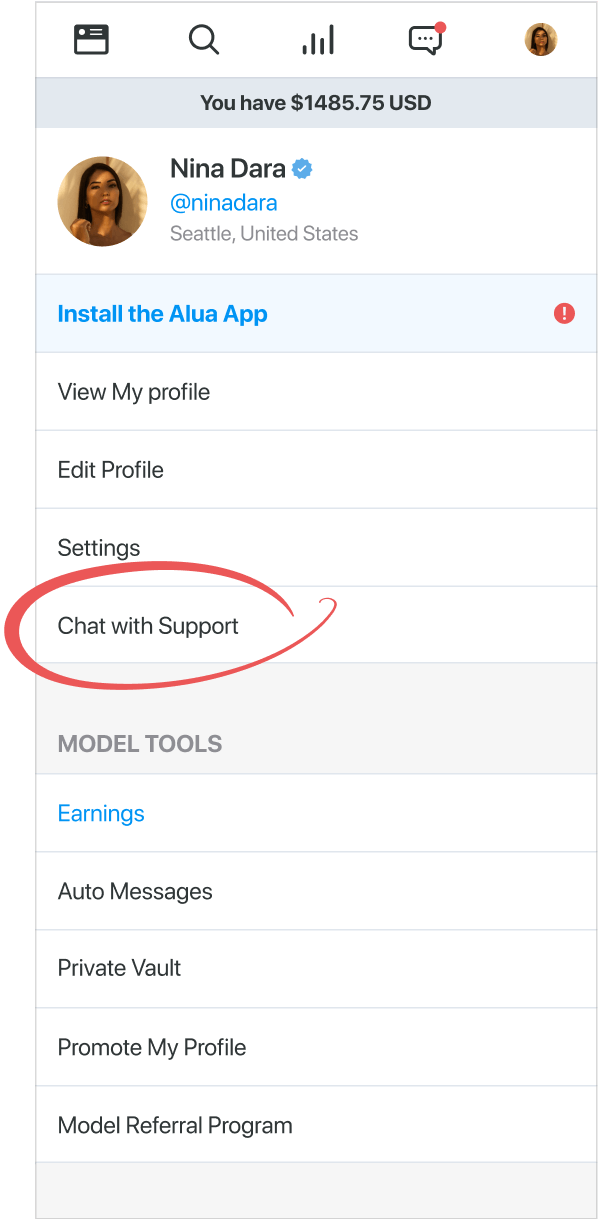 Premium model support team
Alua provides a dedicated team to assist creators throughout their journey. They can be your best friend. From account setup to maximizing earnings, the team offers comprehensive guidance and unwavering support.
DMCA protection
Alua offers DMCA protection to its users, allowing creators to file a takedown notice to remove infringing content. This helps protect creators' intellectual property and fosters a safe and respectful community.
Blocking and reporting
It is crucial for users to be excessively mindful when engaging with other individuals online. However, in the unfortunate event that someone is disrespectful, the website provides a comprehensive blocking and reporting system to uphold a safe and respectful community. Creators can even delete a whole chat conversation as they please.
Is Alua trustworthy?
Alua stands as a reputable and well-established player in the online chat services realm, with a successful track record since its establishment in 2017. As a US-based platform, it offers global opportunities for creators, ensuring payments in US dollars. The platform's longevity serves as a positive testament to its trustworthiness and reliability. Alua places a strong emphasis on user safety, safeguarding personal information, and providing responsive support to its users.
Read these model testimonials from our creators who are enjoying the platform.
Alua reviews from real Models and Influencers
When we reached out to our creators for an Alua review rating, they were happy to oblige! Read some below:
Is Alua worth it for creators?
Yes, Alua is worth it for creators who want to put real work into consistently producing content and private conversations. Alua is a platform that allows creators to earn how they want. It offers several features and benefits that make it an attractive option for many creators. Especially those with a large and active social media presence.
Some of the advantages of using Alua for creators include:
Better privacy. Alua is dedicated to a highly mindful and secure environment for its users. It has implemented a range of measures to ensure that user data is protected and private.
More control over earning. Alua provides creators with more control over their earnings. Alua allows them to achieve greater financial independence and success in the industry. Whether you're into creating content or not. Alua offers a private chat feature that can help you earn on the website.
If you're already using other platforms, Alua's earning feature won't interfere with your existing sources of income. In fact, Alua can help you earn more by leveraging your site and existing fan base. Alua creates additional opportunities to connect with fans and monetize your content. With Alua, you have the flexibility and control to shape your earnings as you see fit.
Minimum payouts. Alua has a minimum payout threshold of $20 for creators. This ensures that creators are rewarded for their efforts and can receive their earnings in a timely manner.
Instant payouts. Creators can receive their earnings as soon as their transactions are approved to account for multiple payout options. This includes PayPal, bank transfers, and cryptocurrency.
How much does Alua cost?
Alua is free and accessible to all. Followers and creators can sign up for their service free of charge. Everyone can follow anyone on Alua without having to pay anything.
Pricing for fans
Alua offers both free and premium membership for users, with different levels of access and service. Users and fans can have free access, which allows them to view a limited amount of content on the platform. This includes public photos and videos, and basic chat functionality.
For those who want to access more exclusive content and have private one-on-one chats with their favorite creators, Alua offers a credit-based system. Users can purchase credit packages on their own side of the platform and use them to unlock premium features on Alua reviews such as private messaging and access to creators' exclusive content.
Cost for creators
Alua is a free platform for creators to join and start building their fan base. There are no upfront costs or fees associated with creating an account and setting up a profile.
When a creator starts earning on the website, Alua takes a 20% commission on their earnings as a fee for providing the platform and its services. This means that creators keep 80% of their earnings, which is a competitive rate compared to other similar platforms.
Sign-up and verification
Signing up for Alua is fairly quick, and easy. Once you arrive on the platform's homepage, you'll be directed to the signup page. You will be prompted to enter your information and register for a free account. Alua verifies your email address during the signup process to ensure your account is secure.
If you're interested in becoming a verified creator on Alua, you'll need to provide three pieces of identification. Firstly, you'll need to provide your social media profile with the most followers. Next, you'll need to take a photo of your valid identification card (ID). Lastly, you must take a selfie with a clear background while holding your ID. Then you will get a blue verification badge on your profile for everyone to see.
Alua's verification process is essential to ensuring that only legitimate creators are able to monetize their content and interact with fans on the platform. This process is confidential and secure for all creators. Despite the additional verification steps, the process is straightforward and shouldn't take long to complete.
Frequently Asked Questions
Q: What are the benefits of using Alua?
Alua has distinctive features that make it stand out compared to other subscription-based platforms. Creators can monetize their content through paid chats, auto messages, private feeds, bonus chats, paid content and referral commission. For fans, the biggest benefit is getting in touch with influencers, models, and creators from different industries.
Q: Who is on Alua?
With thousands of active profiles, Alua is used by fans and creators from all over the world. It's used by influencers, fitness instructors, models, artists, social media celebrities, and more.
Q: How much does Alua cost?
Alua is completely free to download, use, and browse. However, when you purchase credits, you can chat with your favorite creators, receive content, and more.
Q: Is Alua safe?
Yes, Alua is absolutely safe to use for both fans and creators. Images have DMCA protection, while the payment is protected by 256-bit encryption and Norton 360 Security.
Q: Is Alua one of those online dating sites?
Alua is not a dating site. Alua is a site dedicated to helping content creators connect with fans through chat, auto messages, private feeds, bonus chats and paid content. Alua offers fans the ability to get in touch with influencers, models, and creators from a variety of industries.
Take action now and sign up for Alua today! Don't miss out on the exciting opportunities and benefits that await you.
What are you waiting for?
Choose your account type and sign up in minutes.