Are you ready to embark on your journey as an Alua content creator? Starting an Alua account is an exciting opportunity to showcase your unique talents, engage with a dedicated audience, and monetize your content. Whether you're an aspiring model, artist, or influencer, this comprehensive guide is designed to walk you through the process of setting up your Alua account from start to finish. Get ready to turn your passion into profit as we dive into the step-by-step process of starting an Alua account for beginners.
How to get started on Alua
Starting an Alua account is very easy, but it does require some planning. To ensure a strong beginning, it is important to establish clear plans and goals. Creating an Alua account is incredibly easy, and getting started is a breeze. With just a few simple steps, you'll be on your way to sharing your content and connecting with your audience.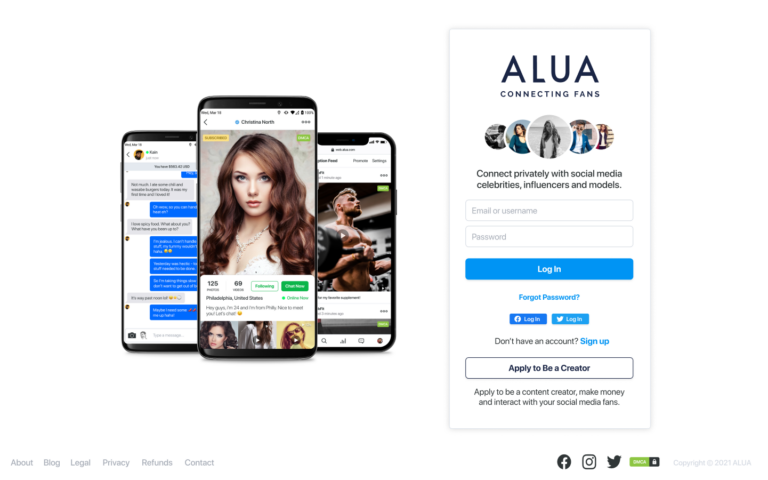 Planning
Pick a niche
Picking a niche before starting your journey on Alua is the best way to create an Alua account. Your niche is what gives structure and focus to your content creation process. Having a niche can help you stand out from the competition on Alua. Your niche depends on your goals, interests, and the type of content you enjoy creating. Some popular niches on Alua are:
Gamer girl

Cosplay

Bikini & lingerie

Alternative girl

Influencer

Fitness

Spicy niche

Username branding
Now that you have picked a niche, you need to decide on a well-branded username. Most especially if you do not want to use your real name, use a pseudonym for as your branding. It will make it easier for people to recognize and remember you. Having a consistent username across various platforms helps create a cohesive online presence. Once you decide, you can check username availability using social media handle checkers like Brandsnag.
Profile image and banner
Now that you have an idea of what username to use, start working on your profile. When signing up on Alua, the next thing you need to do is edit and update your profile's image and banner. Your profile picture is what makes you stand out against the other Alua creators on the Discover screen. Your profile picture should be sweet yet exciting, while your banner should include more information about you in landscape format. Take, for example, these best OnlyFans accounts.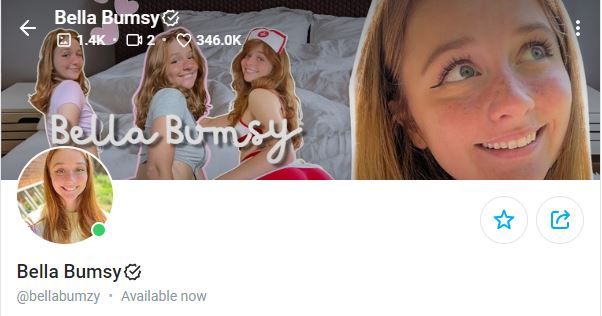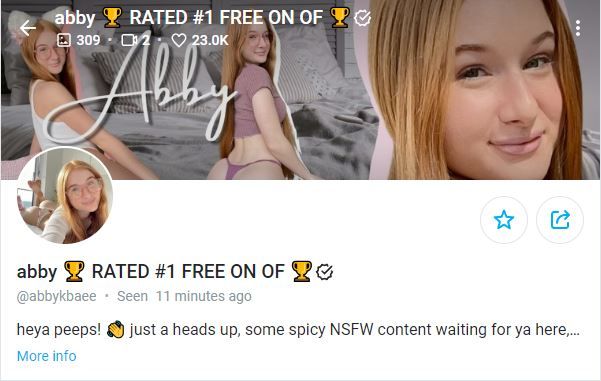 These OnlyFans girls use a simple portrait of themselves as their profile picture, while their banner gives an idea of what you can expect from them. On Alua, you can add more than one photo so there's more chances for you to showcase what you have in store for your fans.
Bio description
A well-crafted bio description provides an opportunity to convey key information about you and what you offer. It's important to incorporate relevant keywords and write about what potential customers can expect from you.
Location
You can also enter your location. By enabling this, you can boost your visibility on the Discover page's 'Nearby' tab, making it easier for users to connect with models who are in the same location for chatting purposes.
Starting an Alua account
On Alua you can earn money from your exclusive media content in both messages and your private feed, or even with just talking to the Alua user base. Whether you're a content creator, influencer, or model, Alua offers a platform to showcase your talents and generate income. Getting started on Alua is a breeze. Simply visit their sign up page and provide your name, desired password, and email. It's that simple to kickstart your journey towards monetizing your content on Alua.
Verifying your Alua account
Similar to other platforms, verifying your Alua account is a standard procedure. With creator safety at the heart of the platform, you must verify your account to ensure that you are over 18 years of age. The verification process typically takes less than 24 hours. Additionally, Alua provides live support to assist you throughout the verification process and address any queries or concerns you may have. Rest assured, you'll have access to the necessary assistance to ensure a smooth verification experience on Alua.
Payment information
Payment on Alua is simple and convenient. To receive earnings, you can easily connect your bank account details where you can cash out every two days with a super low withdrawal rate of $20. In addition, Alua offers the flexibility to link your PayPal account or even integrate with cryptocurrency payments. With multiple options available, you can choose the payment method that suits you best and start receiving your money hassle-free on Alua.
Free chats
Alua is one of the best platforms when it comes to paid messages. You have the flexibility to offer free trial chats to users and provide free chats to your subscribers. Moreover, you can freely set your chat rate as well. These freebies serve as an incentive for users to subscribe, encouraging them to engage and interact with your content. And with the new tip option, subscribers have the freedom to show their appreciation and support to creators by giving tips of any amount.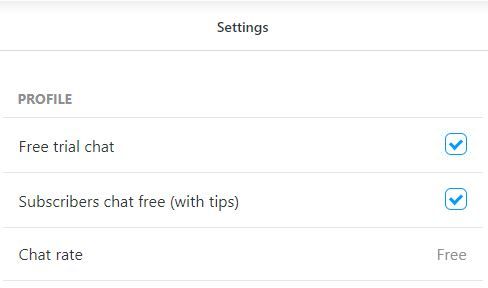 Auto Messages
You can also set automatic messages for new fans and new subscribers. It's an opportunity to express gratitude for their support and encouragement real time. These are amazing as they send out an auto greeting to your new followers and subscribers even if you're not online!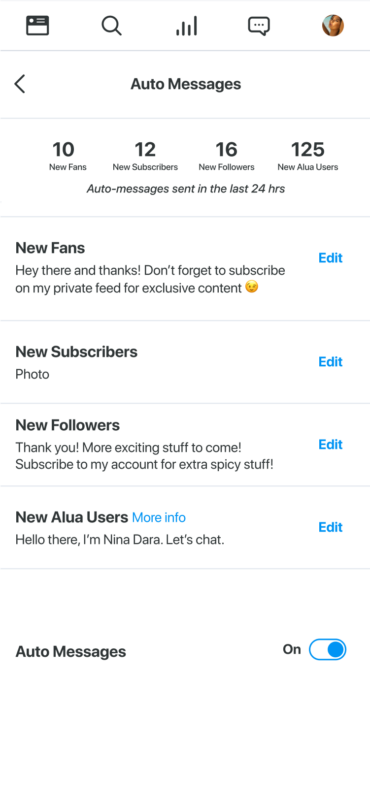 Ensure that your welcome message has a warm and personal touch to make your new fans feel valued and appreciated. Additionally, you can attach PPV (Pay-Per-View) media to provide exclusive photo or video content and potentially generate additional income from first-time subscribers. Make the most of this introductory message to create a positive and enticing experience for your new fans.
Paid chat
Other users on Alua exclusively utilize the paid chat feature, enabling content creators to earn money through communication and interaction with their audience. With paid chat, you have the option to login solely for messaging, making it ideal for those who want to take a break from content creation and enjoy a more relaxed approach. However, it's important to note that this is optional, and you can still create content alongside offering paid chat services.
Alua allows content creators to set their paid chat rates with a fixed amount or opt for a tip-only option. The tip-only button enables your fans to tip you for one-on-one messaging with a chosen amount. This feature not only provides an additional revenue stream but also enhances the sense of intimacy between creators and their fans, fostering a closer connection and more personalized interactions. It's easy to earn from paid chat with a 50-character reply. It's just like saying " Every time I get a notification, I hope it's you."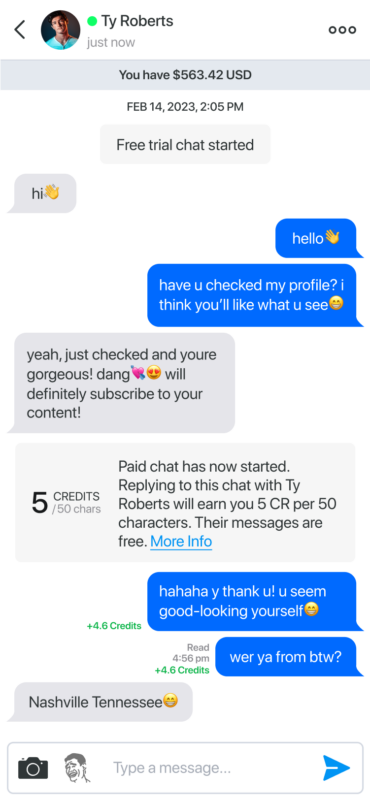 Paid Media
In chats, you can add paid media and set the price as well as a self-destruct timer. This presents a valuable opportunity for content creators to earn additional income by providing exclusive content to their fans. The content can be in the form of a photo or a video that will be exclusively sent through chats, and your fans will have the option to buy it or not.
Alua vs. OnlyFans Login
Unlike OnlyFans, Alua sets itself apart by offering a dedicated mobile app for both users and creators. This means that accessing and enjoying the platform is even more convenient and user-friendly. With Alua's mobile app, you can easily navigate through profiles, engage with creators, and explore a vast array of exclusive content.
The process of OnlyFans login provides access to a wide range of exclusive content from creators across various niches. However, the OnlyFans login process is time consuming as you have to keep logging in to your account via a web browser. Many users are also facing problems with their OnlyFans login; they get logged out randomly.
OnlyFans login only needs your email address and password, but you can also sign in with Twitter or Google. But you just can't log in sometimes. OnlyFans login can be annoying sometimes.
On the other hand, the Alua Mobile Application offers a convenient way to access the platform on the go. With the Alua app installed on your mobile device, you can stay connected with your fans and engage with them wherever you are. The app provides a user-friendly interface, allowing you to easily navigate through different Alua accounts. Users can search for featured creators, browse content, and interact with creators through comments, likes, and private messages.
Alua Mobile Application
Alua understands the importance of accessibility and convenience for its users. That's why we offer not just a web version but also a mobile app version, catering to both Android and iOS users. This versatility allows users to choose their preferred platform for accessing Alua's features and content.
The web version of Alua provides a comprehensive and feature-rich experience, accessible through internet browsers on various devices such as desktops, laptops, and tablets. Users can log in to their Alua accounts, browse profiles, interact with creators, and access their personalized feeds all from the comfort of their preferred web browser.
Furthermore, the Alua mobile app brings the Alua experience directly to users' smartphones. With the app installed on your Android or iOS devices, you can enjoy the convenience of accessing Alua on the go. The mobile app offers a streamlined interface designed specifically for mobile usage, providing an optimized experience for smaller screens while still delivering all the features and functionalities available on the web version.
Whether you prefer the larger screen and added functionality of the web version or the mobility and ease-of-use of the mobile app, Alua ensures that creators and users have options to suit their preferences and lifestyles. This multi-platform approach reflects Alua's commitment to delivering a seamless and user-friendly experience across different devices, allowing creators to engage with their fans wherever and whenever they choose.
Producing content for your Alua account
At this point, you are all set up for your Alua account. The next step is to start creating content and populate your account with engaging posts. While OnlyFans offers both free and paid accounts, Alua takes it a step further by providing the flexibility to have both types of accounts within a single platform. This means you can seamlessly offer free and paid content on the same page, catering to a broader audience and maximizing your monetization opportunities. With Alua, you have the freedom to choose your content strategy and reach both free subscribers and paid subscribers from one convenient platform.
Alua sets itself apart by strictly allowing unique content that cannot be publicly seen on social media platforms. While it's important to create content for social media to engage with a broader audience, it is equally crucial to develop separate and exclusive content specifically for Alua. This ensures that your Alua subscribers receive exclusive and personalized content, creating a sense of exclusivity and value for your dedicated fans. By offering distinct content for Alua, you can provide a unique experience and drive subscriber loyalty on the platform.
With that, let's go through the different content you need to make for a successful Alua account.
Read more: The hottest Instagram models on Alua
Content for Alua
Alua is known for its emphasis on providing exclusive content, along with offering features such as paid chat and a referral program. To make the most of your Alua account, it's important to create content that stands out and cannot be easily found on other platforms or social media. This means putting in the effort to curate unique and engaging content that is tailored specifically for your Alua subscribers.
You have the opportunity to diversify your content strategy by creating separate posts for free content and focusing on delivering your absolute best for exclusive content or pay-per-view (PPV) offerings. The free content can serve as a teaser, giving potential subscribers a taste of what they can expect from your account. It's a chance to showcase your skills, personality, and the value you bring as a content creator.
For exclusive content or PPV offerings, it's essential to go the extra mile. This can include providing more intimate experiences, behind-the-scenes access, special performances, tutorials, or any other type of content that is truly unique and deserving of a premium price. By delivering top-notch exclusive content, you not only incentivize subscribers to stay engaged but also create a sense of exclusivity and value that encourages others to join and explore what you have to offer.
Remember, the key is to ensure that your Alua content goes beyond what can be found on other platforms or social media. Put your creativity, passion, and skills into producing content that captivates and delights your Alua subscribers, providing them with an experience that is truly worth paying for.
Content for other social media
When creating content for your Alua account, it's important to also consider developing content for other social media platforms like Facebook, Instagram and Twitter to promote your presence on Alua. However, it's crucial to ensure that the content you share on these platforms is appropriate for a general audience, adhering to their content policies and guidelines. Focus on creating safe-for-work content such as selfies, lifestyle updates, or general posts that engage your audience without violating any platform rules. Use these posts as an opportunity to direct your followers to your Alua account, where they can access the exclusive content you offer. Creators promoting their Alua account across their social platforms also rank higher on Discover screen. The more you talk about us, the more we talk about you in return to our users.
Conclusion
By following the step-by-step process outlined in this guide, you've learned how to set up your Alua account, create a captivating profile, and navigate the platform's features. You've discovered the importance of finding your niche, producing unique and valuable content, and engaging with your audience to build a loyal following.
Now it's time to put your knowledge into action and start creating compelling content that resonates with your audience. Embrace the opportunities that Alua offers, and watch your account grow as you build a thriving community of loyal subscribers.
So go ahead, dive in, and unleash your creativity. Your Alua journey awaits – sign up today!