The number of premium social media platforms is expanding as content creators flourish. In this article, we will talk about expanding your online presence and how to transform your creative efforts into a lucrative venture. By exploring the possibilities of a free OnlyFans account and an Alua account, we will uncover the key strategies to amplify your reach and monetize your valuable work. Get ready to unlock the full potential of your content creation endeavors.
What are free OnlyFans accounts?
On OnlyFans, content creators have the option to create two types of accounts: a free OnlyFans page and a paid OnlyFans page. With free OnlyFans accounts, users can access free content that has been posted to the creators wall and follow content creators without any payment being required. On the other hand, a paid OnlyFans page means that users will need to pay in order to access the creator's content.
OnlyFans offers limited features for content creators, particularly when it comes to organizing both their free and paid content on a single page. As the platform becomes increasingly saturated, gaining several subscribers can be challenging, especially for beginners. This leads content creators to consider an alternative approach: creating a separate, free OnlyFans profile. The decision to pursue a free account depends on the content creator's marketing strategy and the amount of time you can dedicate to managing two different accounts.
Free OnlyFans VS Paid OnlyFans Account
For aspiring content creators who are starting out and lack a large social media following, creating a free OnlyFans profile can be better. By initially establishing a free account, you can gradually cultivate an audience. You can always transition to a paid account for your premium content. Creating a free account serves as a valuable method to attract your initial audience base. Through a free OnlyFans page, you have the opportunity to showcase free content to users, offering them a glimpse of what lies ahead before they decide to subscribe to your exclusive content.
A free page offers free content. A premium account offers exclusive content, including nude photos, solo videos, custom videos, adult content. A premium OnlyFans account is a paid subscription where you can get exclusive content in exchange for a few dollars.
Here are some of the best free OnlyFans creators you can check out:
Bella Bumzy – Gamer Girl Free Only Fans
Pokebella, Bella Bumzy, is an OnlyFans content creator who is geeky and cute. She offers a free OnlyFans page where she uploads safe for work (SFW) photos and other amazing content such as teasers for her loyal fans.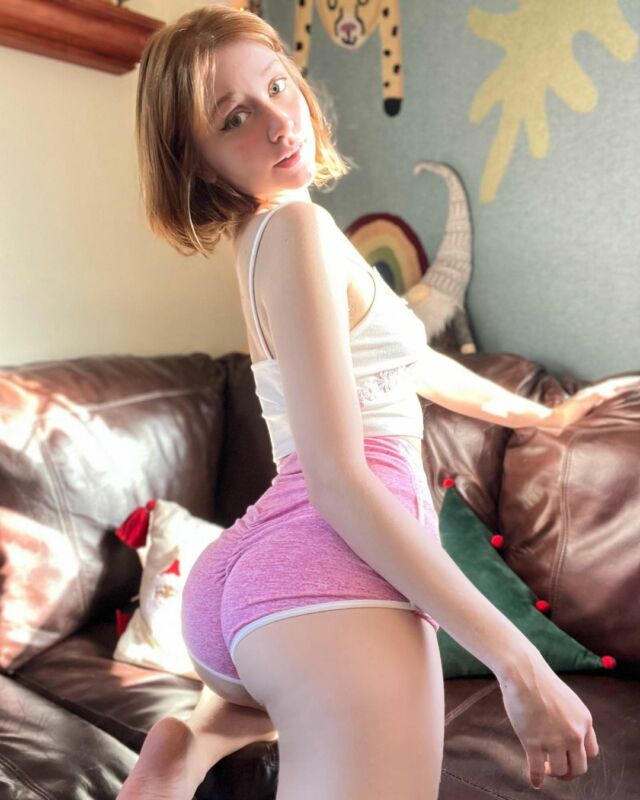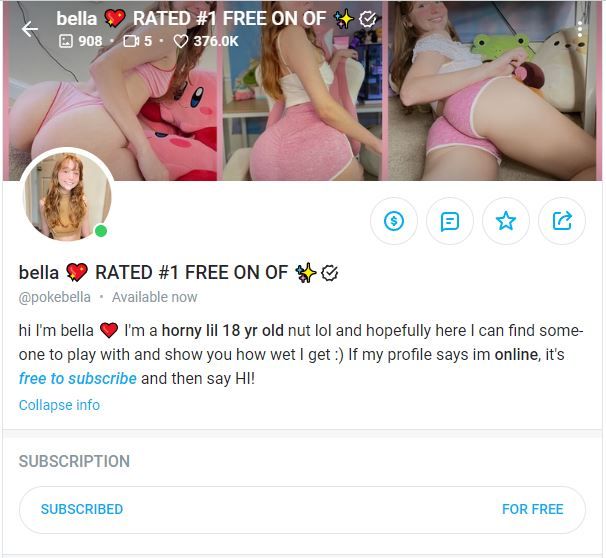 Cup of Carli – Adventurous Girl Free Only Fans
Carli, Cup of Carli, is one of those best free OnlyFans accounts who offers both not safe for work (NSFW) and SFW content. She offers free OnlyFans content with full length clips available for a tip.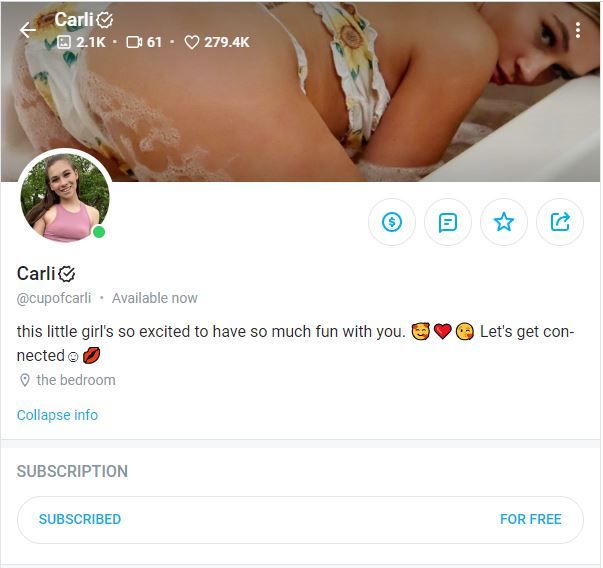 Daisy Dray – "The best Only Fans free account"
Mydaisydolly, Daisy Dray, likes talking privately with her fans. She likes showing off her neckline and wouldn't mind talking about x rated content. For a free account, she is proof that free OnlyFans girls are generous.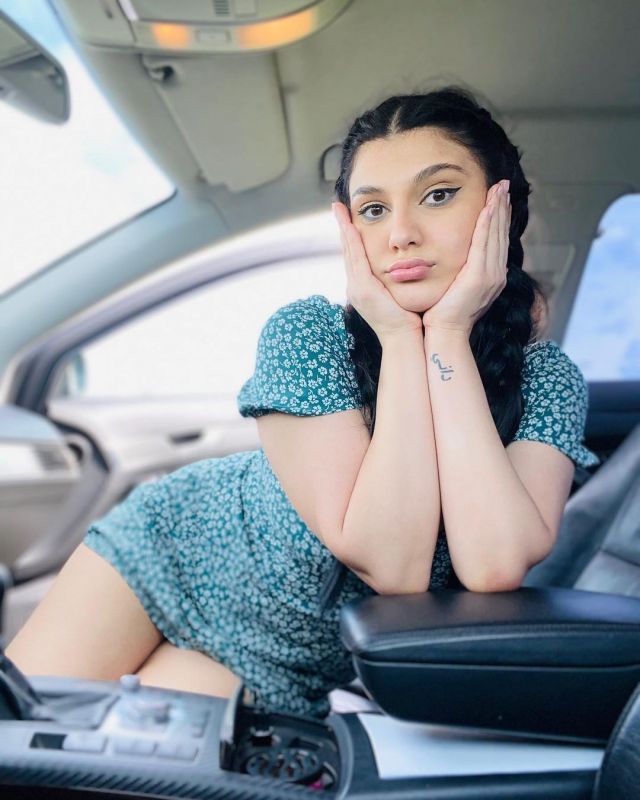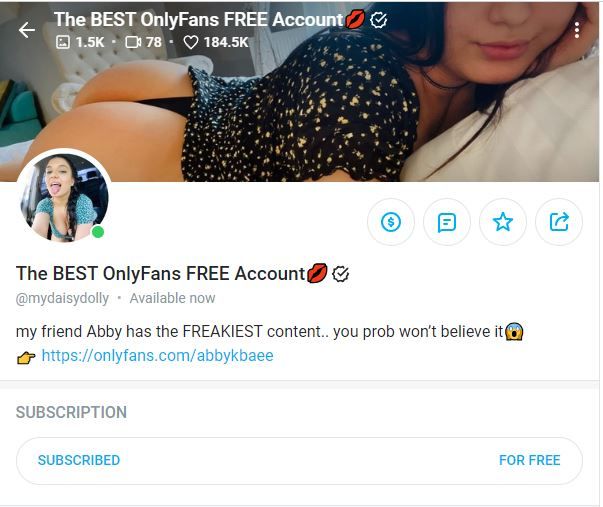 Can you have two OnlyFans accounts?
Yes, indeed. Content creators on OnlyFans have the option to maintain both a free subscription and a paid subscription account. Nevertheless, for beginners, OnlyFans may not be the best choice. As someone who is starting out, it can be challenging to get subscribers. While OnlyFans provides the option to create free creator accounts with the intention of attracting new followers, the reality is that it does not necessarily guarantee significant growth in terms of audience engagement. That's why there are alternative platforms that offer different options.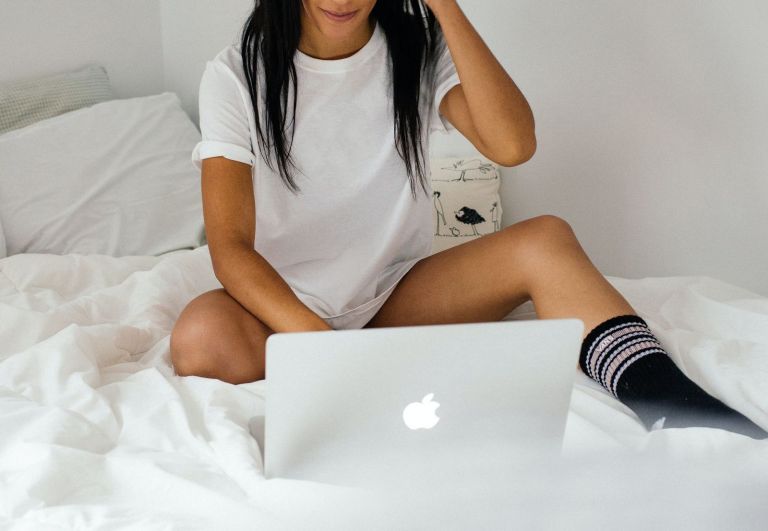 What is Alua?
Alua is the best paid subscription service for all content creators, especially beginners, who want to make money without using two different accounts. The advantage of the platform is that content creators don't need to create multiple accounts to gain subscribers. Once you create an Alua account, you can offer users both free and paid media. This way, it will be easier for creators to manage their account without any complicated methods.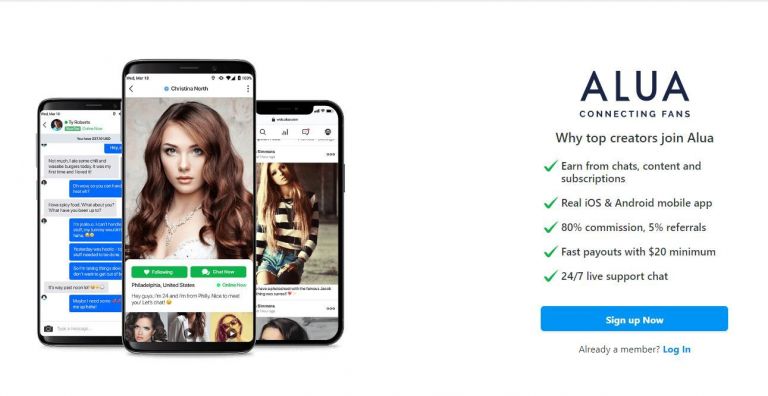 Sign up for a free Alua account now!
On Alua, users have the ability to follow your account and gain access to both your free and locked content. The locked content refers to your exclusive photos and videos that require payment to unlock on a private feed. However, having all your free and paid photos and videos conveniently accessible on a single page proves to be a superior and more user-friendly approach. Furthermore, users on Alua can view sneak peeks of creators' content before deciding to subscribe, offering them a glimpse into what they can expect.
A better platform than OnlyFans
Becoming an OnlyFans creator is a straightforward process for anyone with creative content to share. However, initially opting for a free profile alongside your paid OnlyFans profile may not appear to be the wisest choice. Not only does it add an additional burden of managing another account, but it also presents challenges. In this regard, Alua emerges as one of the most effective platforms, offering a solution to this complicated method.
Unlike OnlyFans, where creators must create a separate account solely for their free photos and videos, Alua offers the advantage of combining both free and paid vip content within a single account. This streamlined approach simplifies the management process for creators, eliminating the need to juggle multiple accounts. By consolidating all content in one account, Alua promotes a more cohesive and user-friendly experience for both creators and their audience. Users can conveniently access both free and paid media without the hassle of navigating between different accounts. This integrated approach enhances engagement and encourages users to explore a creator's entire content portfolio.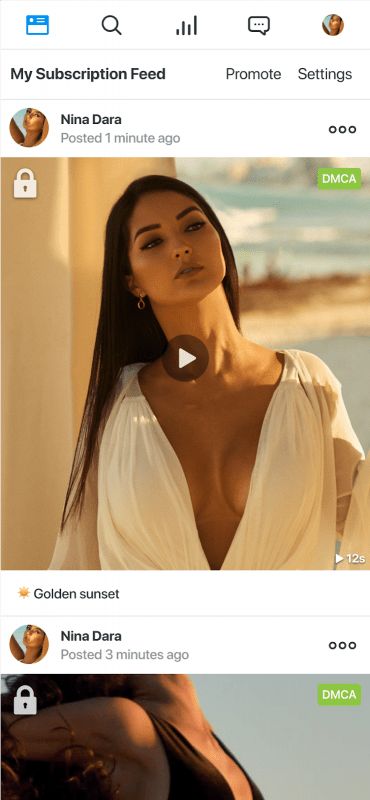 Moreover, Alua's inclusive design enables creators to showcase the full range of their content offerings, attracting a broader audience base. With all content accessible from one account, creators can effectively captivate and monetize their audience, maximizing their earning potential. Aside from that, Alua has internal traffic which gives creators visibility to existing users through the platform's Discovery tab. This enhances the creator's visibility and increases potential audience aside from other marketing approaches.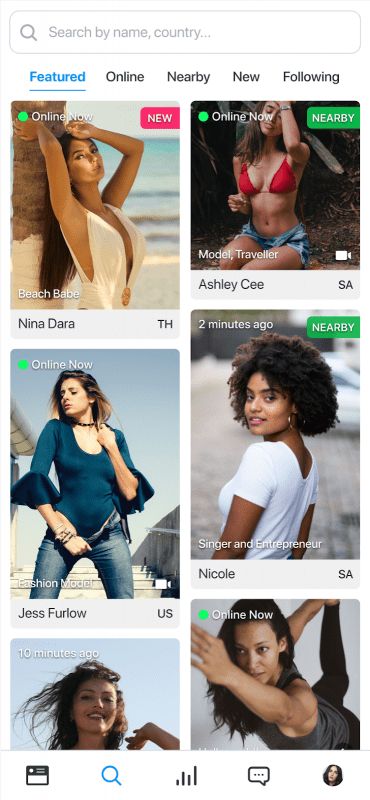 Alua features you will love
The Featured tab
The "Featured tab" is very important for creators, especially new ones. It's where users can find and explore creators. Being at the top of this page is every new creator's goal because it increases their visibility and helps them gain new fans.
If you promote your content on social media, Alua will prioritize you on the Featured tab. This is called the "promote for promotion" principle, similar to "share for share." In simple terms, the more you talk about Alua, the more Alua will talk about you. To qualify for a boost, you need to actively use the app or be online. Other factors like earnings and fan count also contribute to boosting your profile.
Private Feed
The "Private feed" tab is where you will earn most of your income. Here, your top fans will have limited or unlimited access to your highest-quality content. On Alua, you can give free stuff to your fans accounts.
On Alua, monthly fee can range from $4.99 to $39.99 per month. The platform is very supportive of creators, as approximately 80% of the subscription fees go directly to them. Your income will depend on the quality and frequency of your content, so it's up to you as a creator to put in the effort and let your creativity flow.
Paid chat
This is perhaps the most unique feature of Alua.
How does it work? You earn money for each reply you send to your fans. The payment depends on the length of the conversation – the longer the chat, the more money you make. You get paid for every 50 characters you send. This feature can be very lucrative for creators, especially those with a large and popular fan base.
Alua encourages creators to engage with their fans individually through personal chats. As a creator, you have two options: you can start the chat using the Auto Greetings feature or respond to messages from your fans in your inbox.
Apart from the steady income, which is already great, chatting with your fans also allows you to understand their needs and desires regarding your profile. This helps you grow as a creator and further develop your brand on Alua.
Paid chat content
You can also share special private content, such as personal photos or videos that you only want to share with specific people. You have the freedom to choose the prices for your content and how long it will be available for viewing, if you wish to do so.
In-app tips
In-app tips are a fantastic way for content creators to receive additional support from the platform, which can help them boost their earnings. These tips and tricks can be valuable in increasing their overall income.
Mobile App
Alua offers a mobile app for both iOS and Android platforms, enhancing the user experience. With the app, creators can conveniently work on the go and receive instant notifications, allowing them to respond promptly to messages and engage with their audience.
Live Chat support
Alua provides 24/7 Live Chat support to assist users at any time of the day. This feature ensures that creators have access to immediate help and guidance whenever they need it. Whether it's technical issues, account inquiries, or general assistance, the Live Chat support team is available round the clock to address any concerns and provide prompt solutions. This reliable support system ensures that creators can confidently navigate the platform and receive timely assistance whenever they require it.
Conclusion
While a free OnlyFans profile may have its merits, Alua's comprehensive approach, combined with its user-friendly features, makes it a compelling platform for creators seeking a streamlined and efficient way to monetize their content. Sign up to Alua now!